Coverage 2.0
Our specialists have designed the most comprehensive commercial insurance products so you're guaranteed to find the right fit for you and your business:
Superior coverage
We take great pride in being able to customize our policies to suit the needs of every business.
We take our time getting to know our clients; and if at any point their needs change we make sure our insurance policy can accommodate that.
Our policies incorporate coverage in a single document and can include:
Loss of or damage to property
Loss of profits through business interruption
Theft of cash on or off the premises
Legal

liability

to third parties
Legal

liability

to employees
And much more
Service comes first
It's our belief that how one treats their clients matters…
That's why we've worked hard to build a reputation for first class service over the past three decades. Not only will we be there to explain all the nitty gritty details of your coverage to you before you sign on the dotted line, we'll also be by your side when things don't go as planned (a.k.a. when you need us most).
Hear from our clients
Excellence starts here.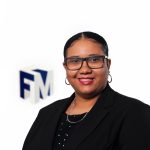 Janeene Mills
Team Leader, Senior Underwriter, P&C Department
Tel: 297-8695
I can help you determine what kind of cover your business needs.
Contact Janeene
Together, we can design a policy for your specific needs and with our ongoing first class service, we will ensure that your policy continues to provide the protection you require throughout the years to come.